CONTACT AND BOOK JOHN TODAY
REFERENCES

"The Great Brant Rock Fire"
Description: On Monday, April 21st, 1941, a firestorm driven by unseasonably high winds engulfed 446 homes, 96 garages, 12 stores, 2 hotels, a casino, a post office and a church in Brant Rock, Massachusetts. Miraculously, due to the heroic actions of several police and fire departments (who were aided by local volunteers), not one life was lost. But in the aftermath of the inferno, many things changed in Marshfield: the landscape of Fieldston, Brant Rock and Ocean Bluff, the subsequent building codes, the firefighting methodology, the retail district and the way of life of many year-round and summer residents of Marshfield. Join New England folklorist and historical fire researcher John Horrigan as he presents a slide show and lecture that will bring you back to that blustery day through photographs and newspaper accounts of the period. He will show you the spot where the conflagration was sparked and the area where it was halted. Did you know that there is a beautiful little park that is dedicated to the Great Fire? Mr. Horrigan will also give a brief overview of the great fires in Massachusetts' history. At the conclusion of the presentation, you are invited to share any memories that you may have of the event.




CLICK HERE FOR GREAT FIRES OF MARSHFIELD AUDIO VAULT
IMAGES
The flames jumped from roof to roof and houses were engulfed instantaneously.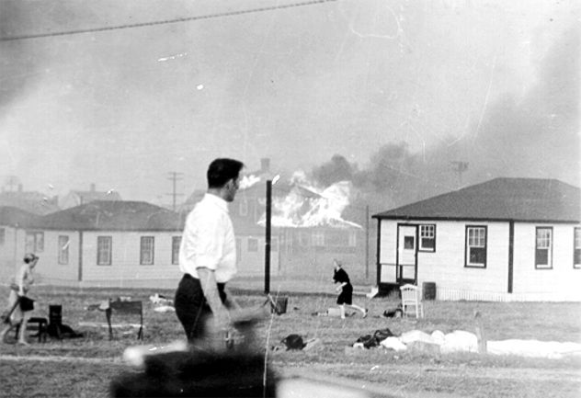 Some people had no time to save any of their personal belongings and were left with only the clothes that they were wearing at the time.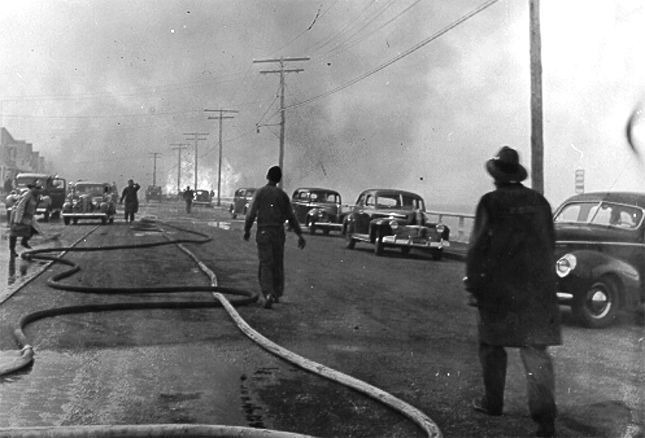 Looking north on Ocean Street in Ocean Bluff on April 21st, 1941. The fire began two miles away at 1:50 PM.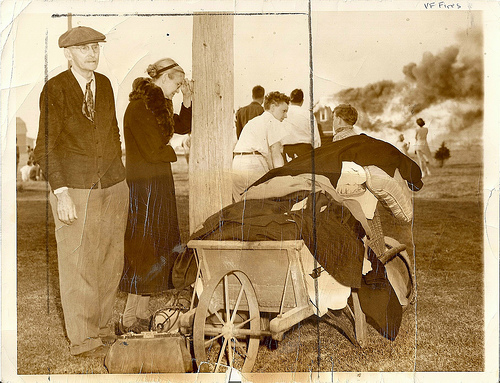 Mr. and Mrs. Charles R. Bennett lost everything except for a wheelbarrow full of clothes.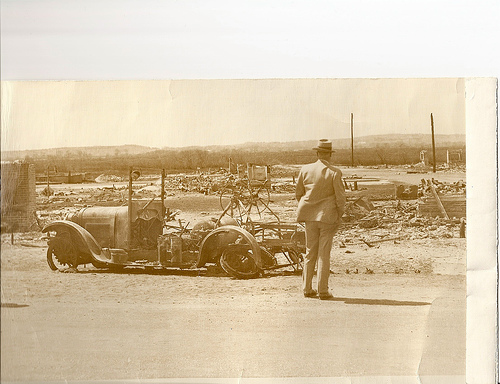 The burned out shell of a Duxbury Fire Department engine ("Old Girl") that was lost in the fire.




THIS LECTURE HAS BEEN PERFORMED FOR:
Organization: Ventress Memorial Library

Contact: Chris Woods

Date: August 24th, 2009

Location: Marshfield, Massachusetts

Email: click to email

LISTEN TO THIS LECTURE



Running Time: 1 hour 15 minutes; Size: 71 MB




Organization: Ventress Memorial Library

Contact: Chris Woods

Date: July 21st, 2009

Location: Marshfield, Massachusetts

Email: click to email

LISTEN TO THIS LECTURE



Running Time: 1 hour 20 minutes; Size: 72 MB

WATCH THIS LECTURE ON VIDEO
PART I
PART II
PART III
PART IV




Organization: Winslow House

Contact: Mark Schmidt

Date: August 12th, 2008

Location: Winslow House at Green Harbor, Massachusetts

Email: click to email


LISTEN TO THIS LECTURE



Running Time: 1 hour, 14 minutes Size: 68 MB



Organization: 60+ Club of Marshfield

Contact: Nancy Goodwin

Date: May 10, 2008

Location: Marshfield Senior Center at Marshfield, Massachusetts

Email: click to email

LISTEN TO THIS LECTURE



Running Time: 45 minutes; Size: 41 MB



Organization: Community League of Marshfield

Contact: Ginny Gill

Date: November 14, 2007

Location: Marsfield Hills, Massachusetts

Email: click to email

LISTEN TO THIS LECTURE



Running Time: 53 minutes Size: 73 MB



Organization: Ventress Memorial Library

Contact: Chris Woods

Date: April 21, 2007

Location: Marshfield, Massachusetts

Email: click to email

LISTEN TO THIS LECTURE



Running Time: 48 minutes; Size: 45 MB




GREAT BRANT ROCK FIRE LECTURE - July 21st, 2009
PART I
PART II
PART III
PART IV
PART V
PART VI
PART VII
PART VIII

CLICK HERE FOR GREAT FIRES OF MARSHFIELD AUDIO RECORDINGS

RETURN TO JOHN HORRIGAN HISTORICAL LECTURES
JOHN'S AUDIO CATALOGUE