CONTACT AND BOOK JOHN TODAY
REFERENCES

"The Great Fires of Watertown"
Description: New England folklorist and great fire historian John Horrigan presents a chronology of great fires in Watertown, Massachusetts including the Wigwam Fires of 1630, the Great Fire of 1841, the Arsenal Fire of 1866, the Great Fire Bugs of 1897, the Cat Fire of 1907, the Paint Factory Fire of 1919, the Soap Factory Fire of 1926, the Mrs. Babe Ruth Fire of 1929, the Great Lumberyard Fires and other great conflagrations. Horrigan will also give a brief historical overview of the Watertown Fire Department and speak about some major fires to strike Boston over the past 350 years.




VISIT THE GREAT WATERTOWN FIRE VAULT AND LISTEN TO AUDIO RECORDINGS




DOWNLOAD JOHN'S GREAT FIRES OF WATERTOWN POWERPOINT PRESENTATION
Size is 134 MB.





IMAGES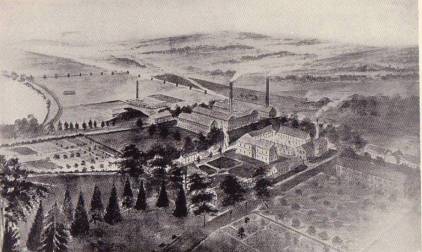 A tremendous explosion and subsequent fire rocked the U.S. Arsenal in 1866.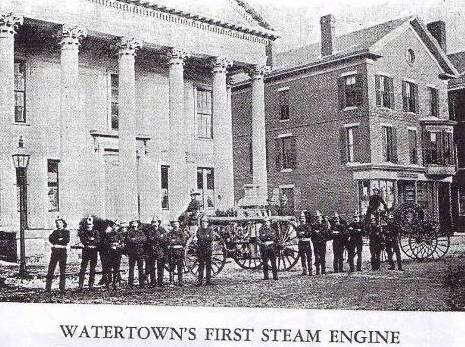 Watertown's first steam engine ("Pequossette One") helped fight the Great Boston Fire of 1872. It saved the old South Church.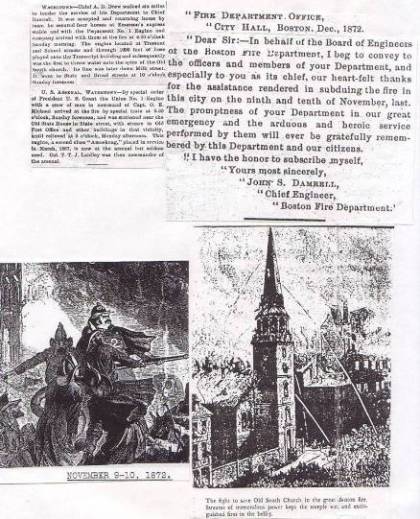 Boston Fire Chief John Damrell even sent a letter of thanks to the department.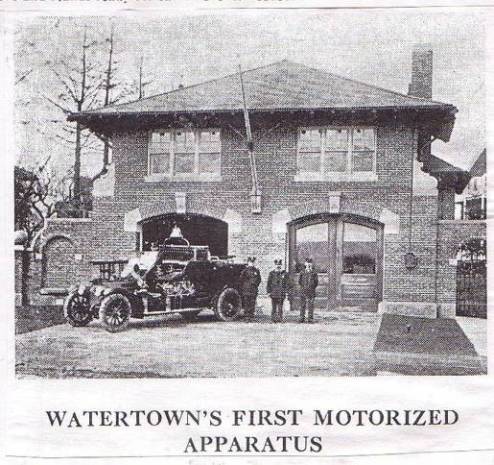 Watertown's first motorized engine arrived in 1919.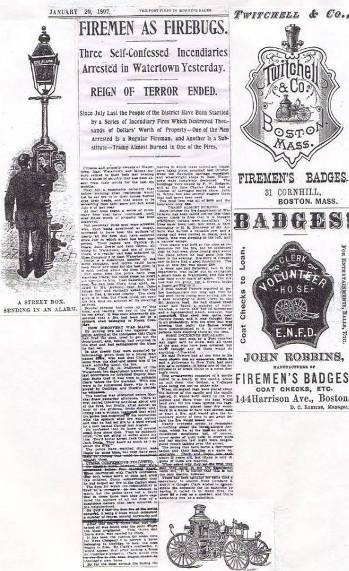 In 1897, there was an outbreak of arson. Later a Watertown firefighter (along with a volunteer firefighter) would be convicted for these crimes.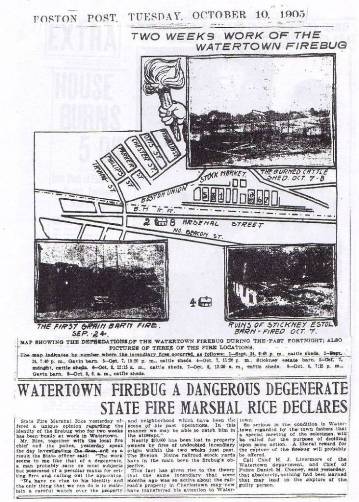 Another firebug was on the loose in 1905, except this one was never caught.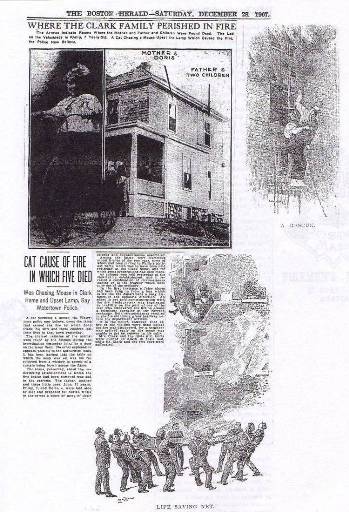 In 1907, a cat was blamed for tipping over a kerosene lamp that caused a fire which took the lives of the entire Clark family.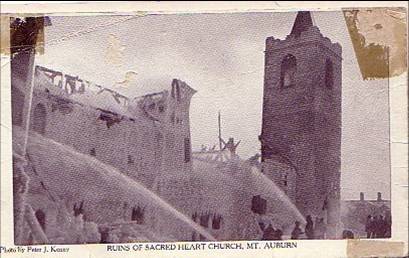 The Sacred Heart Church burned on a frigid day in February of 1912.




Babe Ruth's ex-wife(?) Helen perished in a fire in Watertown in 1929.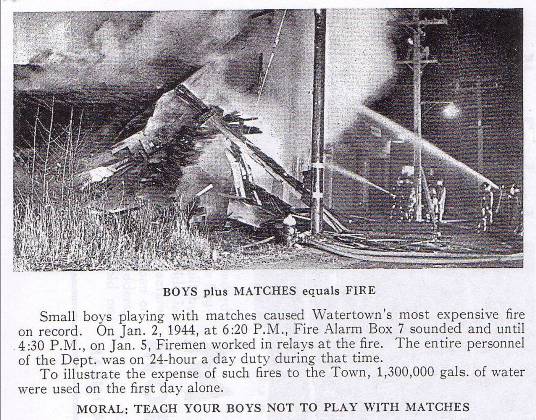 After boys played with matches on January 2nd, 1944, the Kimball Lumber Company went up in Watertown's most costliest fire.




THIS LECTURE HAS BEEN PERFORMED FOR:
Organization: Historical Society of Watertown

Contact: Joyce Kelly

Date: March 11th, 2009

Location: Watertown Free Public Library in Watertown, Massachusetts

Email: click to email


LISTEN TO THIS LECTURE



Running Time: 1 hour and 37 minutes Size: 89 MB



RETURN TO JOHN HORRIGAN HISTORICAL LECTURES
JOHN'S AUDIO CATALOGUE